Learn 24 Great Blues Licks
Please note - all my lessons have been moved to my new website -
Master Guitar Academy
- please go there if you are interested in any of my lessons.
Guarantee
If you are not satisfied with this lesson for some reason, contact me within 30 days for a full refund.
Digital Download version also available for $24.99.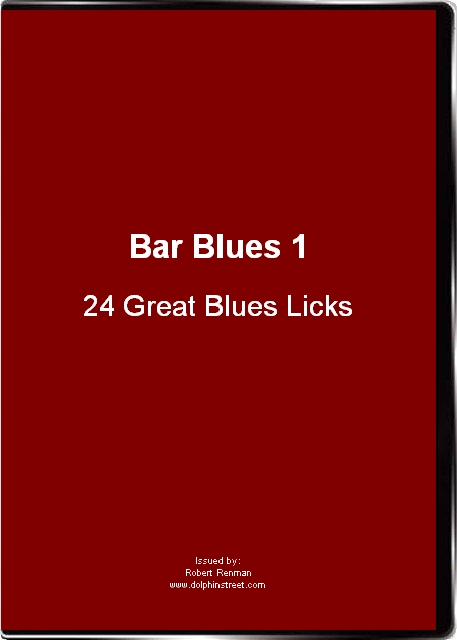 This lesson teaches you 24 great blues licks, as well as the rhythm guitar parts. The reason I called it "Bar Blues", is that each lick spans 2 bars. You will learn 4 licks over bars 1-2, another 4 licks over bars 3-4, and so on. The result is that you learn good blues licks that are played in the right context. The licks I teach over the IV-chord are purposely played a bit differently compared to licks over the I-chord or the V-chord.
After you learn all the licks in this lesson, you will have enough blues licks to play a 48 bar blues solo! Since each lick spans 2 bars, 6 licks will cover the first time through the 12 bars, another 6 licks for the next time through the 12 bars - so 24 licks will last for 48 bars of blues lead playing.
This lesson is NOT a beginner lesson, although beginners will benefit from this lesson too. It is an Intermediate level lesson, and the lesson doesn't teach you scales or theory. Instead, the focus is on playing Good Blues Licks At The Right Place in a 12 bar blues.
If you are a beginner, you will probably be able to play some of these licks, but there are a few that will give your fingers a workout. I purposely included some licks that use more advanced techniques, such as 1 1/2 step bends, quick alternative picking, hammer-ons and pull-offs, double-stops and more.
In short - if you are a guitar player who have been using the pentatonic scale and/or blues scale, but you have problems making your lead playing sounding good and convincing, then this lesson is for you. This lesson is straight to the point - you get to learn blues licks right away and all licks are played to a backing track, so you can hear how the licks sound in the right context. You will also enjoy learning the guitar rhythm parts from this backing track.
Learn the Rhythm Guitar
I will also teach you how to play the rhythm guitar for the backing track. You will learn how to play professional sounding rhythm guitar - not the usual blues shuffle taught to most beginners. I will show you how to play a moving chord sequence that lasts for one bar, and the voicings for these chords are very useful in other situations too. This is a great way to learn comping over a progression, and you will find this way of playing rhythm guitar a great compliment to the typical shuffle grooves you probably already know.
What's included in this lesson?
The total amount of video is 1 hour and 25 minutes.
The DVD version includes the Digital Download. In other words, when you buy the DVD, you can immediately download the HD video over the internet. The DVD will be sent to you within the next 2 business days. The lesson files are also emailed to you immediately.
Digital Download - because the video file is over 800 megabytes in total, I have split it up into 2 files, so it will be more convenient to download.
The Download Lesson includes three files - 2 video files and one zip file:
First Quicktime movie (Licks 1-14 - about 400 MB in size)
Second Quicktime movie (Licks 15-24 & Rhythm guitar - about 400 MB in size)
A Zip file (10 MB) that includes:
PDF for the 24 licks
PDF for the rhythm guitar
Guitar Pro 6 file with all 24 licks
Guitar Pro 6 file for the rhythm guitar
Guitar Pro 6 file for all 24 licks played in sequence
Backing track in MP3 format
These lesson files and the video download are included in the Bar Blues 1 DVD product, so you will immediately get the links to these after you have made your purchase.
Chapters make it easy to navigate
I have provided chapters in the Quicktime files, so it's easy to find each lick in the video. You will see a dropdown menu on the right side in the Quicktime Player, after you have opened the video.
You can then just choose a selection from this menu, and the player will jump to that location in the video. Very convenient - just like using chapters on a DVD.
The first video has an Introduction, an example of what it sounds like when you play all 24 licks over the backing track (this means 48 bars, or 4 x the 12 bar progression). The licks in this file are from 1 to 14.
The second video has the licks from 15 to 24, as well as a lesson on how to play the rhythm guitar parts from the backing track. This is a great way to play chords in a blues! I will teach you all the little "tricks" and "secrets" that make this way of chording sound so great.
Why use Guitar Pro?
I whole-heartedly recommend you get Guitar Pro 6 if you don't have it. This way, you can both view and hear the licks being played, which is great for learning. Naturally, this applies to the rhythm guitar parts as well. You can also set certain sections to repeat, if you want - also great for learning.
Buy This Lesson
Guarantee
If you are not satisfied with this lesson for some reason, contact me within 30 days for a full refund.
My hope is you will have a lot of use out of this lesson. I think it will provide intermediate players, who are stuck in a rut with pentatonic boxes and boring lead playing, with fresh ideas and inspiration, and a good number of cool blues licks (24) in the pocket. Please let me know if you have any questions about this lesson.
Testimonials
I still maintain this Bar Blues 1: 24 Great Blues Licks course is super.....the more I practice it and get familiar with the progressions (usually 8 licks at a time initially but it extends beyond this as I better understand the neck positions, fingering and theory) the more I realize this is a super blueprint into playing some pretty sophisticated electric blues lead guitar! Couple this course with some of your fine complimentary licks in A off your web site and this becomes a super basis moving forward into outstanding lead guitar play!! The well explained blues jam progression at the end of this video is worth the price alone!!
Jim, Texas
Just a quick note to say thanks for putting together the Bar Blues 1 download lesson. I've bought quite a few lessons off other web sites over the past couple of years, but this is by far the best. The thing that really worked for me with this lesson was, rather than learn a specific solo (which i just tend to remember note for note) Bar Blues 1 is more like a 'blues construction kit' which got me mixing up the different licks over the I-IV-V progression... This approach also really helped me to listen to which licks worked best over different parts of the progression. So now, rather than play a 'fixed' 24-bar solo, I'm finding I can jam away for ages! So, please do some more of these!
Shaun K
"The Bar Blues DVD is just what I've been looking for... nice classic blues licks at the right tempo that I can put to use right away. Unlike many other on-line instructors, Robert is not out to impress you with lightning fast or highly complex licks that only advanced players can use. For an intermediate player like myself, in my opinion this DVD hits the bulls eye."
Ed K
I recently purchased the Bar Blues 1 DVD set from Robert and have been very impressed not only with the quality of the video but also the great content of the 24 blues licks that are taught.. It's almost like Robert is sitting in the same room with me giving a private lesson. The video is clear and the audio is of the highest quality.
Thank you Robert and www.Dolphinstreet.com.
Michael LaRue
Saint Louis, Missouri U.S.A.
"Great DVD. A real Blues gem. Something for everyone regardless of your level of playing. Highly recommended.Looking forward to #2."
Mike H.
"Robert Renman's Bar Blues 24 Great Blues Licks was just the lesson I needed to take my playing to the next level, it provided not only great licks but showed which licks sound best over the I, IV and V chords. With so many licks to choose from it is easy to create your own songs over the backing track and you can use the structure of the licks to improvise your own variations of each lick."
John Watson
"I've been playing along with two of your videos, "Get Close" and "Line it Up" for about a week. Simply put, your instructions are easy to follow, my playing is improving and I am having lots of fun. I would recommend your videos to anyone who wants to learn and like me is a "tweener", a player who is in between beginner and intermediate."
Jay
"I started working on them about an hour ago. I love the fact that you add all the different techniques, double stops, trills, curls, ¼,1/2 and full bends. But what I like most is that I can now work on making my own solo over a 12 bar. I have done some of this in the past but for some reason this opened up my eyes to some incredible possibilities. Best money I have ever spent."
Walt
Order it now and get both DVD and instant download of this lesson.
Comment on this?