I have tons of great lessons at
Master Guitar Academy
. Join me there - it's where you can learn with me every week. That's also where all my DVDs and Premium Downloads are.
| | |
| --- | --- |
| Will you Donate? Making these lessons is a lot of work. You can help us all by donating. Click the PayPal Button: | |
Guitar Lesson Overview
Here's a jazzblues lick that works well in several spots in a blues progression. The key is C, so the I chord is C7, the IV chord is F7, the ii chord is Dm7 and the V chord is G7. Try playing this over a regular guitar blues as well, not just over a jazz blues progression as in this video. This type of lick is very easy to reuse. Change a note here and there, or change the timing/phrase a bit and make it your own. Enjoy!
I was using the Line 6 JM4 for the backing track. This really is an amazing unit. It's got tons of cool backing tracks and drum grooves. Just pick and song or a drum track, choose a tone and hit the play footswitch. Instant fun and great for practicing!
Highly recommended practice tool
Line 6 Jm4 Looper Guitar Effects Pedal Silver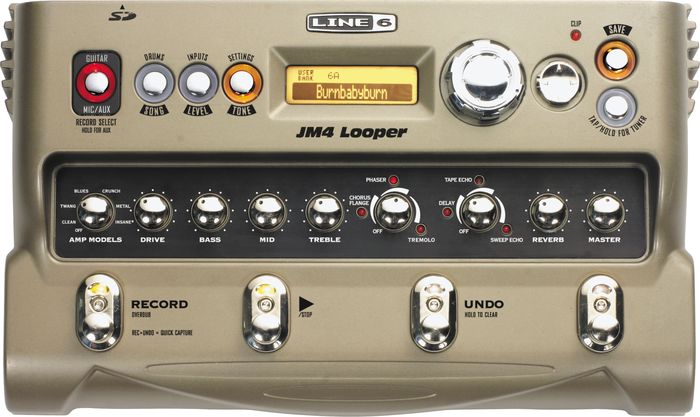 Tab and GP6 files
You can download TAB and GP6 files here for this lesson.
Comment on this?
I want to tell you about the guitar lesson web site JamPlay. They have kindly offered a special 7 Day Free trial to visitors of Dolphinstreet.com. I have reviewed their site, and I have to say it is VERY impressive.
There are lots of teachers and many different areas to learn from. It is well organized, and you can learn songs, techniques, etc - very complete website for learning. After 7 days, you will pay a monthly subscription continue. For the 7 trial, you don't have to give out your credit card number.
Go check it out and see what you think. Since it is completely free for 7 days, you really should test it out. You have nothing to lose. If you are interested in learning guitar online, you would be silly not to take advantage of this. If you do decide to sign up, I receive a little bonus, so this way you help support dolphinstreet as well!
» JamPlay - Dolphinstreet special 7 day trial - use this code: dstrial.
Video Clips
I have lots of gear demos too on this site. Go and take a look at some of my Guitar Videos for some examples of gear I use or have used.
Comments on this video lesson:
Robert
said...
It's called "Walking Blues". Key of C.
Comment added on May 02, 2014
Jean Pierre
said...
hello. very interesting lesson. thank's for it.

I'm a new owner of a jm4 looper . can you tell which settings did you use for the back track (I guess it ' s a preset but which one?)
Comment added on May 02, 2014
Tommy Choquette
said...
Keep up the great lessons. I will certainly try to do my part.
Comment added on October 12, 2012
Alex
said...
Hi, Robert. Thanks for the last Blues Jazz Lick over C Blues. Yes, it's quite good sounding and i'll try to use it.
Comment added on July 06, 2012
mark hughes
said...
always good with the slow version of the lick
Comment added on June 09, 2012
Chuck
said...
Great lesson Robert... love that lick. I also really like your tone. I know that you have a link to your gear on this page. Could let us know what gear you are using and your settings for achieving this great tone?
Comment added on May 03, 2012
John C.
said...
as always, very cool...
Comment added on March 23, 2012
Clu
said...
Good job Robert. Good timing and and note inflection with some nice chord-slide accents. With a little effort these kind of licks can make a guitar player sound like a seasoned jazz pro in a short time and give them something to use over and over again with some variations. I appreciate the lesson.
Comment added on April 09, 2011
laura
said...
Thanks Robert. Once again a great lesson.
Comment added on January 08, 2011
Mark
said...
Excellent!like the ideas keep them coming,this is going to be very useful.simple yet effective Thanks
Comment added on January 07, 2011
Terry
said...
...love this guitar style... sort of "uptown blues" with swing... always like the sound of a repeated lick over the I, IV V blues chord progression... brilliant lesson Robert.
Comment added on January 07, 2011
Want to talk about any of these guitar lesssons?
Join me at my guitar forum! I try to answer any questions regarding lessons, technique, playing styles, gear, etc. You are welcome to join the Dolphinstreet Forum group of players.